Yang Yang
Title: Fog-enabled Intelligent IoT Services
Abstract:
Fog computing has recently attracted a lot of attentions from communication, computing and control communities. Together with cloud computing, edge computing, and sea computing, the research and development of fog computing technologies aims at supporting future intelligent services and societies by providing multi-layer computing resources and a horizontal service architecture across a variety of IoT networks and applications. Specifically, fog computing enables on-site data processing, information retrieval, knowledge creation, performance optimization and real-time decisions in ambient service environments.
Bio:
Dr. Yang Yang is currently a tenured professor at ShanghaiTech University, China, serving as the Executive Dean of School of Creative Arts and a Co-Director of Shanghai Institute of Fog Computing Technology (SHIFT). Before joining ShanghaiTech in July 2018, he has held faculty positions at The Chinese University of Hong Kong, Brunel University (UK), University College London (UCL, UK), and SIMIT, Chinese Academy of Sciences (CAS, China) since 2002. His research interests include wireless sensor networks, Internet of Things, Fog computing, and Open 5G. He has published more than 180 papers and filed more than 80 technical patents in those areas. He is a Fellow of the IEEE, a Board Member and the Director of Greater China Region for the OpenFog Consortium.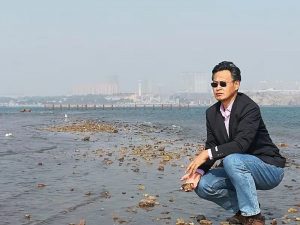 Zhi Wang
Title: Sub-meter Integrated Outdoor/Indoor Positioning for Smartphones by Using Beidou Satellite and Pseudo-Ultrasound
Abstract:
The complex indoor environment and outdoor tree and building obscurations have brought great challenges to the application and promotion of Beidou satellite. Aiming at achieving sub-meter integrated indoor/outdoor positioning services for intelligent mobile terminals and unmanned vehicles, this talks is to present a novel Beidou micro-base station solution through utilizing pseudo-ultrasound., and systematically introduce the principle of this micro-base station and its various applications. Taken an example of participating in the 2018 Microsoft Global Indoor Positioning Competition and winning the first place in sound group, the key technologies of sub-meter pseudo-sound ranging and positioning are introduced, including NLOS intelligent recognition under strong occlusion conditions, high-precision acoustic ranging Beidou complex multipath propagation environment, robust positioning and tracking under unreliable ranging estimation. Finally, an application case is given for smart phone based intelligent travel, where the ranging and positioning performance of Beidou micro-base station under outdoor and indoor environment, and the key affecting factors are analyzed.
Bio:
Zhi Wang is a PhD Advisor at College of Control Science and Engineering, Zhejiang University. His research areas including sound signal and array sound signal processing, mobile positioning and tracking, compressed sensing and deep learning, data fusion of multiple sensing systems, mobile computing, and industry Internet of Things (IoT). As a principal investigator, and co-investigator, he has investigated more than 20 international collaboration and national research grants, including 9 China-Germany, China-France, China-UK, and China Portugal collaboration projects, 8 National Natural Science Foundation of China projects and 1 China 863 High-Tech scheme. He has authored/coauthored 100+ SCI/EI indexed journal papers, including 20+ IEEE Transactions and Journals (IEEE TMC, IEEE TPDS, IEEE TSP, IEEE TIM, IEEE IoT, IEEE TII, IEEE Access), 20+ top international conference papers (IEEE INFORCOM, IEEE SECON). He has also published a book "Wireless Sensor Networks". Currently he is preparing two books titled "Initial Investigation of Mobile Phone Positioning Technology" and "Sound Sensing and Localisation Technologies". He was also the winner of 2018 Microsoft Indoor Localisation Competition in sound group.